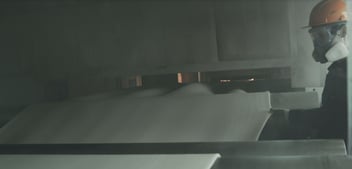 I recently gave technical support to a new customer who is a Process Engineer at a mid-sized sheet extrusion. Since we started working together, he's successfully been using Asaclean's Chemical NCR Grade to remove carbon in his die and prevent having to tear it down and manually clean it contacted me. He recently reached out to me with a question.
His carbon situation was sporadic and his usage of the product was low. Recently, he began seeing changes in his product mix which involved color changes and material changes. Since he needed to increase heats to 500-550F when using Asaclean NCR to remove carbon, he was curious to know if the product required him to do the same for he's new transitions.
The answer is NO.
We all know it takes time to increase and decrease heats. In cases with large scale equipment, that can be significant. When contamination is present, we need the additional heat to maximize the chemical activity of the purge to get a better cleaning. When performing a color change or material change in most cases the purge can be run at operating temperature of the resin being removed dramatically cutting the time of the purge process.
This example illustrates what Asaclean's free 10-minute consultations are capable of. A quick chat with our customer's dedicated Purging Expert led to an explanation that dramatically reduced processing time. We're here when you need us!
Ready to reduce your production downtime to protect your profits? Learn more about how purging compounds and process efficiency work in tandem.