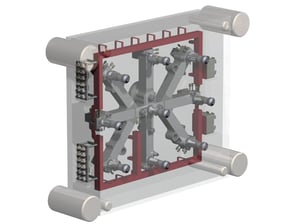 Many of our blog posts focus on reactionary fixes to processing issues. Today I would like to focus on a way to avoid problems before you even choose your hot runner. It is crucial to identify and select the proper hot runner system. There are a number of things you should consider before you choose. It is extremely beneficial to consider the following:
1-Melt Flow Channel Bore Size
This is a very important part of the system. Processing resin temperature, as well as the residence time of the resin processing will dictate bore size.
2-Nozzle Bodies
These must be tailored to the production resin melt flow as well as the residence time--both of which are based on mold flow analysis.
3-Nozzle Tips
Nozzle tips should be standardized for availability and maintenance repair.
4-Drop Tip Contact
Drop tip contact is a key element in both process consistency and the function of making quick change overs.
5-Location
Heater and Thermocouple location are also very important to consider.
Putting in the homework ahead and designing the manifold correctly can make a huge difference in the overall operating cost of the mold and the life of the program. These preparations avoid long and difficult startups with high scrap rates and those costly color changes. Not only is it beneficial for consistent part production, it also improves part quality.
Every molding department has a few of those costly manifolds in their shop.
If you are having trouble with a manifold, black specs, color contamination, streaking, long and expensive color changeovers, consider sealing during shutdown with a high quality purging compound.