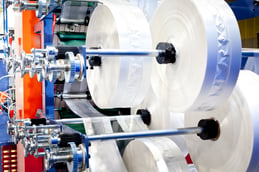 When producing film from a spiral die, carbon and gels can cause catastrophic failure. This will cause the processor to lose production time as they will most likely have to tear down the die and physically remove the carbon by hand. Now, that being said, most bag producers run the machines until the carbon is so bad, they have no choice but to tear down the die and clean it manually. That's called running to failure. There is a better way.
When the gels, die lines or carbon specks first become visible, this is the time to stop production and use a quality purge such as Asaclean NCR. By doing this, you will extend the life of the die and prevent having to tear it apart to clean manually.

When using the NCR to remove carbon, we need to raise the heats in the die to a minimum of 500f. Once at this temperature, extrude the NCR through the die until it is only NCR coming from the die. At this point, slow the rpms of the screw to a very slow speed and allow the purge to "soak" for 30 minutes. By keeping the screw turning, you ensure that there is fresh material coming into the die to remove the degradation.
Ready to reduce your production downtime to protect your profits? Learn more about how purging compounds and process efficiency work in tandem.