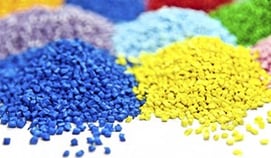 These are unprecedented times where resin shortages are affecting well over half of all plastics processors' ability to run normal production schedules. Modified production schedules under the duress of these supply chain issues are yielding higher scrap costs and in many cases more machine downtime.
As we all know, high demand and low supply means higher resin prices. Resin price being one of several factors that go into the cost analysis that justifies usage of purge compounds as a lower cost alternative, the increases to resin cost directly affect scrap costs and machine time rates. A pile of scrap or rejects that now can incur up to 50% or higher increase in cost, forces processors to recalculate their total purge costs to help them decide if using a purge compound can save them money. Hourly machine rates many times include the price of goods sold for a particular job, or "opportunity costs". With material prices up, machine rates can appropriately reflect the higher material and end product costs for production runs. For example, a color change from 2019 when compared to the same color change now in 2021, while yielding the same metrics of time and resin, can now be revisited to determine if a more efficient purge option can save the company from spending more on these resin changeovers and purge applications.

Many companies are also experiencing increased downtimes and changeovers due to these shortages. Sometimes only receiving partial resin shipments, production teams facing deadlines will opt to run production in stages as the waited upon resins arrive with delays. As a result, production schedules can see far more "short runs" than before and are now faced with more frequent material changes, possibly on the same machine. This problem can be further exacerbated with thermally sensitive resins like Acetal and PVC that degrade quickly when the machine is not running. While there isn't always a direct correlation between machine downtime and scrap rates, the need to review resin behaviors during potentially longer than normal residence times can prove to be a necessity.
Ready to reduce your production downtime to protect your profits? Learn more about how purging compounds and process efficiency work in tandem.