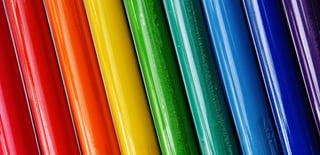 Most of our posts talk about situations where facilities are struggling and we help them solve their problems. But this is not always the case. There are plenty of plants that have preventative purge programs in place. They're doing the right things. But you can always get better.
I'm working with a Process Engineer that runs a 3-layer coating line. He goes back and forth from PET to HIPS. Two skin layers and a core. They currently use Nylon, PE or PETG to purge. Runs last between 1-3 weeks. During each run they'll also run a color cycle going from light to dark.
They have an excellent preventative maintenance program. They manually tear down and clean the extruders for color/material layers (no carbon) twice per year which takes several hours. They tear down and clean the die four times per year which takes several days. They came looking for help to:
Mi

nimize the time and cost of color and material changes.
Minimize the need to tear down and clean the extruders and die.
With many commercial purge products on the market, which would be the best fit and be economical?
My suggestion was to use a chemical vs. mechanical type purge. Chemical purges foam and get into dead spots and negative flow areas easier and more effectively. There was also a melt pump to consider. Chemical purges will clean melt pumps effectively without risk and won't hang up after the purge process is complete.
The system capacity of this 3-layer system is roughly 250 lbs. One purge with a chemical purge would use about 300 lbs. A mechanical purge 500- 750 lbs. Cost of a mechanical purge would be significantly higher and, in my opinion, not as effective.

Since we didn't have to worry about degraded carbonized polymer, we recommended the following:

1) Use the chemical purge when making material changes from PET to HIPS. This will help remove the previous resin more effectively than using a more viscous resin to displace and prevent layering of materials.

2) Use the chemical purge at the end of each color cycle for the same reason. Using stiffer resins to displace color or material will just add to the layering.

3) To check performance, I suggested to pull the screws and die as they normally would to compare what they would normally see to what they saw after using purge. If all goes according to plan and it should, they won't have to do this again in the future.

In this case an evaluation of a purge compound will take one year to fully evaluate it's potential. It also has built in gauges along the way to monitor progress / success. Sometimes it's not just one and done. If all goes as expected, we should reduce screw pulls from two to one and die cleanings from four to one and reap the benefits of increased productivity. You should always inspect your extruders and dies at least once a year.
Ready to reduce your production downtime to protect your profits? Learn more about how purging compounds and process efficiency work in tandem.