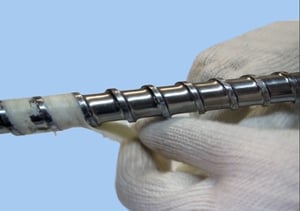 Who relishes tear downs and pulling screws out on injection molding machines and/or extrusion lines? Who doesn't want support when performing them?
Let's face it, whether you're the type of processor who proactively tears down and pulls (or pushes) your screws out for Preventative Maintenance (PM's), or a type of processor who re-actively tears down and pulls (or pushes) your screws out as a last resort, usually the consensus is that screw pulls are difficult and aren't enjoyable. Believe it or not, there is another type of processors. They simply don't perform screw pulls and don't view them as an option. This third group always leaves me scratching my head.
Removing screws can be cumbersome, time-devouring and as at least one customer noted, "a hot mess." I've also been told they are like going to the dentist and getting a tooth pulled. The reality, though, is they are a necessary evil of processing thermoplastic resin and can be your best option in certain situations. So why not use a screw pull purging compound tool, such as the EX Grade purging compound, that's specifically engineered and designed, to help assist with them?
I've listed below 4 clear-cut benefits as to why you many want to consider using a purging compound as an aid to make screw pulls more painless:
1.) It dramatically slashes the force and diminishes the friction involved to remove the screw from the barrel. The screw slides out easier compared to previous tools used.

2.) As the screw glides out, the purging product is engineered to peel off the screw like a banana when warm. By design, it has a high affinity to polymers and low affinity to metal. It doesn't like to stick to metal and releases with ease.

3.)After the screw has been fully removed, there is virtually nothing remaining on the screw surfaces and flights. Essentially technician's grunt work is eliminated from the equation. Since the screw is practically clean, substantially less manual labor and time is required.

4.) There's a solid likelihood you won't need to use traditional tools, such as using wire brushes/meshes, torches, wire wheels, bead blasts, baking in ovens etc., to necessitate an overhaul.
As a recent example, I consulted with Maintenance Supervisor at a well-known injection molding company. His department had nearly a dozen scheduled screw pulls for semi-annual/annual PM's purposes (inspection/measurements etc.) and he wanted to make them more palatable for his technicians.
After using the EX grade purging compound on 2 screw pulls, he reported back his maintenance guys loved the results and "there was next to nothing" left on the screws after removing them. There was just little bit of build-up on the nozzle area, but the residue wiped off easily. They went from about 60 minutes of manually cleaning screws, down to about 15 minutes. At 12 screw pulls, the technician's reduced their grunt work and the organization received back 9 hours of productivity.
This 90 second video illustrates the difference seen when using our EX grade purging compound for a screw pull.
Do you need assistance with any upcoming tear downs and screw pulls?
Should you need any assistance starting a new purge program or enhancing an existing one, please don't hesitate to reach out to me at 800-787-4348 ext. 227 or bmoore@asaclean.com.