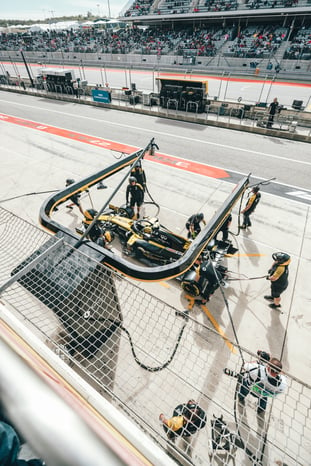 Color changes are an everyday challenge for custom injection molders. Switching from one color to the next causes wasteful downtime and produces lots of scrap in the process. Your process technicians out on the floor play an important role in effecting your overall machine down time and scrap rates during these change overs. Below are some helpful tips to maximize cleaning and reduce your overall color change over time.
1.) Record and understand your current performance
Take a common stopwatch and time your process tech on the next color change. I used to do this with my team on the shop floor all the time. This is a good training tool to standardize your purging procedures and make sure they are performing color change overs the same way each time. Typically, you want to start out by targeting your most difficult or frequent color change over using your current purging method. Start the time as soon as the machine goes down and then stop the time as soon as you a making good quality, color match parts. Record the data.
2.) Ask yourself questions about your performance data
How long does it take to get the barrel clean and over to the next color? Is it taking 30 min - 1 hr or maybe longer due to color streaking? How much scrap was built up during the process? Once you know these questions, you can ask yourself the most important question: Is there room for Improvement?
3.) Make sure your process technicians are focusing on the right things when purging
There are two areas for your process technician to focus on during the purging procedure:
1st key area is, with the barrel purged empty, bring the purging compound in at a moderate to low rpm.Once the purge compound starts to come out of the nozzle you want to increase the rpm's to a safe but "MAXIMUM" level for the machine and enough screw back pressure to keep the screw in the most forward position during this step. Using as much rpm's as the machine can safely handle is key! We want to create as much turbulence and shear as possible inside the barrel to effectively scrub the screw getting into those low pressure or dead spots in the system.
The 2nd key area of purging procedure is performing multiple short, high velocity air shots. What this does is target the Non-return valve area especially if you are running a check ring style valve weather it a locking or non-locking. To do this, you still want to maintain the same high screw rpm's but at this step you reduce your screw back pressure that allows the screw to retract and building a shot in the barrel. This does not need to be a large shot. It just needs to be large enough to get the full check ring throw depending on the size of the machine. That said, it is still relatively a small shot. So with those same high rpm's build a shot then with high injection velocity inject forward. What we are effectively doing is thrusting that check ring back and forth scrubbing out any remaining contamination in this difficult to clean area where material likes to hang up.
You want to repeat these steps back and forth building a shot than shooting forward multiple times until the purge come out clean then you can add the back pressure again to purge barrel empty. Maintaining high rpm's and using relatively small or short air shots to clean Non-return valve will reduce time and maximize cleaning without over usage of the purge material.
These are all smaller pieces of the larger picture which is reducing machine down time and increasing your production output. If you have any questions or concerns on how to build a more robust purging program please reach out. We are happy to be on-site if possible, but we are happy to train in multiple ways. Let us know if you'd like a free consultation or free on-site support.
Ready to reduce your production downtime to protect your profits? Learn more about how purging compounds and process efficiency work in tandem.