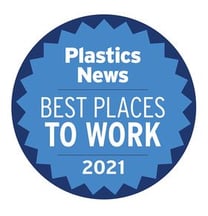 Parsippany, NJ – ASACLEAN™, the industry-leading brand of commercial purging compounds for thermoplastic injection molders and extruders, was recently honored to be named 6th overall in Plastics News' annual ranking of Best Places to Work in the industry.
This is the seventh year in a row that the New Jersey company was recognized as one of the top 10 places to work in plastics..
The recognition means a great deal to the company. We are a sum of all of our parts and it's the people that make Asahi Kasei Asaclean Americas a truly great place to work. Being recognized seven years in a row shows consistency in our efforts to improve the culture of our company.
Learn about the importance of implementing proper purging procedures by downloading this free industry guide.