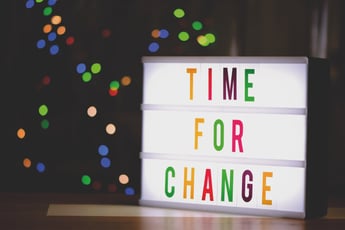 While we all prefer the excitement (and profitability) of growth, downturns like the one we are currently experiencing offer opportunities as well. This is a time for planning, maintenance, and reevaluation.
You are provided an opportunity to create new opportunities for efficiency for your business. We recommend that you take advantage of these days to prepare to be even more successful when things normalize. Once you establish your current processing baselines, you can really take your process efficiency to the next level. Use these baselines when working with a purging expert to determine the best options for your resins, processing temperatures, and process.
Here are some benefits of implementing and maintaining a value-added Purge Program that last long beyond these challenging & uncertain times:
1.) Improves safety

as purging properly prevents injury and damage to equipment.

2.) Improves machine capacity

for production to make more sellable parts and reduce the cost-per-hour of machine time. Additionally, this opens some time for maintenance personnel to do what they should be doing. Maintenance improves overall by focusing more on preventative and less on corrective measures.

3.) Better use of resources,

which is reflected in better profit margins.

4.) Improves production first pass yield and protects the environment

by reducing the scrap that is not sellable and the energy required for machine time.

5.) The ease of getting the job done

by helping process personnel make changes faster and easier.

6.) Helping purchasing staff

reduce supply stress with better delivery time and inventory control. Asaclean Purging Compounds dramatically reduce the cost-per-purge for processors. Quality purging compounds typically require less product to get the job done. This reduces overall material spend.
During challenging times you have an opportunity to improve your business in countless ways. Be proactive and you can break bad habits, identify opportunities, and reinforce best practices.
At Asaclean, our Purging Experts go the extra step and help you implement a personalized Purge Program to improve process efficiencies. Invest in your future. Don't know where to start? Get your free consultation with a Purging Expert today.
Ready to reduce your production downtime to protect your profits? Learn more about how purging compounds and process efficiency work in tandem.