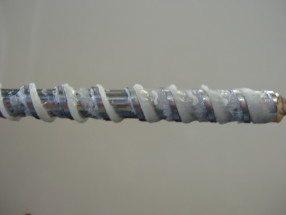 I started working on purge program earlier this year with a process engineer at an injection molding plant in Texas. His custom shop fabricates parts out of couple of materials including black Nylon 6/6 and natural Polypropylene. He wanted a purge compound that was designed to address contamination for "just in-case" situations and help him get out of processing pinches.
I had an ideal mechanical purging compound grade in mind from the start, but it's essential to always have a concise troubleshooting session before making any concrete recommendations. Without a purging consultation, there may be "unknowns" that can cause problems down the road. We reviewed things such as what current purge was used, how the purge compound was utilized, and what his costs were associated to using this purge compound. We also discussed the machine, resins, and processing temperatures.
After our conversation, I advocated 5 straightforward, yet beneficial, tips:
1.) Use a purging compound specifically designed for screw pulls and cleaning like our EX Grade.
2.) Use enough safe back pressure to keep the screw all the way forward.
3.) Use normal production screw RPM's to properly fill the barrel fully with the purge.
4.) After the purge exits the nozzle of the injection unit, adjust the screw RPM's to the maximum safe level.
5.) After the purge pile looks nearly clean, let the screw recover and administer short injection bursts to focus on both the check ring and nozzles areas.
The other day I reached out to this process engineer and learned that he was in a processing pinch and was having some issues. He ran into an problem where one of his machines wouldn't hold a consistent cushion and was fluctuating. Usually when this happened it would inevitably lead to a laborious, time devouring 8-hour screw pull.
He thought that the machine's inconsistent cushion and fluctuations were due to contamination that had possibly built up around check ring, nozzle area and trailing edges of the screw flights. He presumed it was caused by his technicians forgetting to purge the press properly before a weekend shut down.
He happily reported that our EX grade mechanical purging compound successfully removed the contamination, helped him get out of a processing pinch and evaded a screw pull altogether. After restarting the press it held a better, more consistent cushion that wasn't fluctuating. All he had to do was spend around 10 minutes and use ~ $80 of product to get back into production and resume making sell-able parts.
Ready to reduce your production downtime to protect your profits? Learn more about how purging compounds and process efficiency work in tandem.