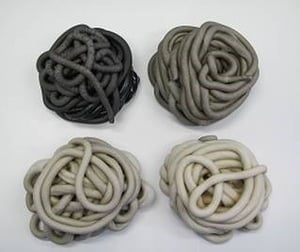 During initial tests at a mold injection plant in Tlajomulco de Zuñiga, the process engineer decided to run a trial with a mechanical purge (instead of a chemical purge) for three different cases. These injectors are small tonnage and offer excellent conditions for running a mechanical purge. Chemical purges typically offer higher performance in low pressure environments such as extrusion or blown extrusion machines or in cases where contamination is found in areas where there is less pressure.
There are a few keys to make sure your tool is always taken care of. First you need to certify the tool was built properly. When first sampling the tool make sure to fix any flash or part warpage issues that you see. Next, you should make a schedule to have the tool serviced based on the number of cycle runs or at least a few times a year to decrease the risk of having any major problems with future production runs.
Before starting up the tool you should clean and inspect it, to make sure nothing damaged the tool while it was in storage. This would include spraying mold releases and checking the gates and surface of the tool. Also, before the mold heads back to storage, you should clean and inspect the tool to make sure it runs just as smooth during the next production run. Some more detailed tasks when doing maintenance include checking/cleaning Ejector pins, water lines, and the tool surface. These are more time-consuming responsibilities that will take more personnel with skills to make sure the tool will keep up with production runs. Although they are time-consuming, they are worth it.
Making sure all tools are properly maintained is a great way to ensure they last throughout the life of the program and avoid costly tool modifications. By following these simple steps, you will safeguard against expensive tool adjustments and loss of production time to get your tool serviced.
Ready to reduce your production downtime to protect your profits? Learn more about how purging compounds and process efficiency work in tandem.