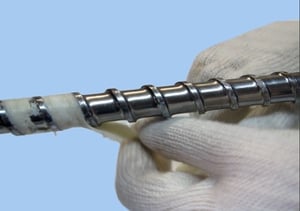 A process engineer and I have been actively working on a purge program for a new aerospace program for the past six months. This
profile extrusion
plant makes different colored tubes out of Polycarbonate (PC). This project permitted zero contamination during the production run, so overhauls (
screw pulls
) were a prerequisite of theirs.
His goal was to use a commercial purge compound (CPC) to help assist with screw pulls and ensure that the screw and barrel was 100% crystal clean with no contamination leftover from the previous production run. He estimated 4 overhauls per month once production started.
He and I reviewed reviewed their normal process and operating environment. We discussed details including the size of the extruder, L/D ratios, and verified what the system capacity held, just to name a few. After our brief consultation I was able to identify and specify the best grade for application.
I suggested 3 easy and effective tips after our brief session:
Use a high-detergency mechanical CPC engineered for a deep clean to strip unwanted contamination off the screw and help assist with their overhaul.

Use a slow screw rotation to fill up the entire system to make sure the extruder fully packs out with the purge.

Use maximum safe screw rotation immediately after the purge starts to depart from the end of the extruder to maximize the cleaning ability.
Towards the end of June he gave me an update. He said he used approximately $76 worth of the CPC and it worked tremendously well. His typical overhaul time went from around 60 minutes down to a mere 20 minutes. He now easily could pull the screw from the extruder, remove what little purge residue was left by hand, and re install the screw in 1/3 of the time.
In addition, he no longer needed to use a barrel/wire brush or a wire wheel that he used habitually prior to our purge program. With an estimate of 4 overhauls per month once production started, getting 160 minutes back per month will generate more machine capacity, save money over the short/long runs and should make things easier for the himself and other technicians.
Learn about the importance of implementing proper purging procedures by downloading this free industry guide.