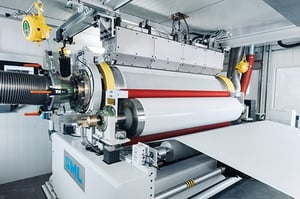 Recently I was speaking with a processor I met at NPE 2018 who was having trouble with their cast film application. They had a problem when extruding re-pro PP with post consumer resin (PCR) content for cast film. They produce this film for thermoforming machines producing flower pots. The repro PP they run has different loadings of PCR and this causes inconsistent process conditions from lot to lot, carbon contamination causing flow/die lines and other quality issues, etc.
I recommended these 10 tips to help them alleviate these problems.
Use the correct chemical purge compound for the resin. In this case it was a 2-4 melt flow index repro PP. For this particular application, I chose Asaclean NCT grade.

All screen packs should be removed before trying to clean machine.

Raise heats to 550ºf or a bit higher.
Flush out production resin and in this case, it was black PP with a similar natural resin to remove the bulk of the color.
Plug any vents on the barrel if necessary.
Introduce the NCT to the extruder using a high screw speed to ensure the NCT fills out to the edges of the die. In this case, it was a hangar die of 32" wide.
Once even flow is accomplished, slow the RPMs of the screw to a point that the screw is just turning with no chatter. This allows fresh purge to be introduced to the die during the soak period of 30 minutes.
Soak for 30 minutes with screw slowly turning.
At this point the machine was not going into production until the following morning. Leave the NCT in the barrel and shut the heats off.
Upon start up, soak the heats as normal. Once at proper production temp, remove remaining purge in barrel and start production.
The next day, I followed up with my contact and he reported the machine came right back into production with no carbon or die lines causing rejects. He was very happy not to have to split the die and clean manually. While this is a very specific example, I've dealt with hundreds of different processing issues through the years and am happy to conduct a free consultation with anyone who might be having an issue.
Learn about the importance of implementing proper purging procedures by downloading this free industry guide.